Folding Clothes




My Mother and I play a game when I help her folding clothes.
It makes the work go faster, and she told me that she knows
That her own Mother played it, too, and her Grandma before,
And her Grandma's Mother started it in 1924!
We start out with a basketful of clothes, but then, you see,
The order that we take them from the basket is the key.
We first take something red, then something orange, then yellow or gold,
Then something green, then blue, then something purple's what we fold.
Then we start all over, choosing something else that's red,
Then orange (or brown), then green, then blue, then purple (or black instead.)
When there's no more of a color left, we just use our sharp eyes
And find the next in line, and the last color wins the prize!
My mother tells about our Great-grandma who made the game.
Their wash days took a lot of time; it wasn't quite as tame
As "take the clothes out of the wash and pop them in the dryer."
They scrubbed, and rinsed, and wrung them out and hung them on a wire!
And since Grandma made her own aprons of colors she could choose,
She always had a tub of purples, yellows, greens and blues.
Isn't it amazing that we still have just the same
Fun my own great-great-Grandmother
Started as a game?
oOo
From Fun Time Read-Aloud, Read-Along Rhymes: Poems of Work and Play
.
oOo
A Finger Play


"Great-great-Grandmother" is a tricky word. In this poem, it is talking about the child's mother's mother's, mother's mother!
A fun way to help see the line of mothers would be to touch your little finger to stand for the child in the poem, then the ring finger to stand for Mother, the tall finger for Grandmother, the pointing finger for great-Grandmother and the thumb for the great-great-Grandmother who started the game.
Reading as a family, it would be fun to see if you can give all five fingers the names that fit for your family. This could start a project to find out about your family tree.
A True Story


This poem is from a true story. My mother's parents lived with us when I was a little girl. My grandmother taught me how to cook, and sew, and clean. She taught me how to enjoy my home, as a place where I could create and serve and love.
When Grandma did the laundry, she would hang it on a clothes line my grandpa put up in our back yard. Instead of work, grandma made it into a game. She would hang a rainbow of colors out on that line, and the wind would whip them dry.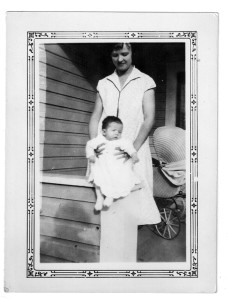 Grandma was married, and started her own home in 1923. Here is a picture of her with her daughter, who grew up to be my mother.
Whenever I think about Mother's Day, I remember that I come from a long line of mothers.
I think that mothers must have played games to teach their children colors, and counting, and problem solving as long as there have been mothers.
I am thankful for my mother, and for her mother and everything they taught me.
I am thankful for my daughters. I hope the things I have taught them will bless generations far into the future.
Have a Happy Mother's Day. I'd love to hear in the comments what things you do in your family to remember Mothers who came before!
oOo



by

by