Family Fun with Valentines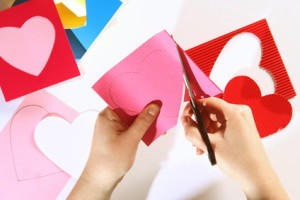 Making Valentines
With a pink piece of paper and the scissors in my hand,
I cut out a shape that your heart will understand.
With a dash of shiny glitter and a little bit of glue,
I'll finish up my Valentine and send my love to you!
(Yes, another poem from Year-Round Read-Aloud, Read-Along Rhymes: Celebrating Holidays and Seasons.)
Valentine Crafts
A Google Image search for kids valentine crafts will send you on a treasure hunt for Family Fun ideas.
There were great ideas using little more than paper, scissors and glue. Or you can go as fancy as you want with sewing, crocheting, or crafting gifts.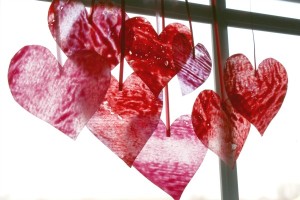 Supervise the older kids as they make "stained glass" valentines by ironing crayon shavings between two sheets of waxed paper hearts.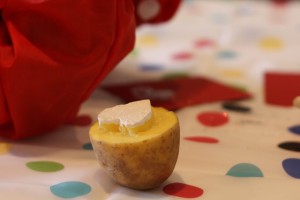 Dad or Mom are in charge of carving the potatoes into hearts, Xs and Os.
Then let the kids go at it, and stamp away with paint on brown paper bags, construction paper or other crafts.
Expanding Your Valentine's Project
Once you've decided on a way to make hearts, you can expand the project to create
· Wreaths,
· Mobiles,
· Table Decorations
· Valentine Cards and envelopes
· Picture frames
Framed Wall Hanging
Why not write your own Valentine's poem? (If you like, you could choose one of mine from Year-Round Read-Aloud, Read-Along Rhymes: Celebrating Holidays and Seasons
Write out the poem or a special message on a pink piece of construction paper with a marker or crayon in a color that will show up.
Then paste hearts all around the edge of the paper, to make a frame.
You could use a favorite picture instead of a written message.
Valentine Paper Bag Book
Since this site is all about books, I was excited to find a great book project. It's simple enough for the littlest learning readers, but adaptable to the most creative teen! The result is a book full of pockets you can fill with love notes, promises, or whatever you can dream up!

What Valentines projects have you enjoyed as a family? I'd love to see pictures of your crafts. You can email me at ReadAloudReadAlong@gmail.com. Tell me if you would like them posted on my Facebook page, Read-Aloud, Read-Along with Susan Call Hutchison.
oOo



by

by