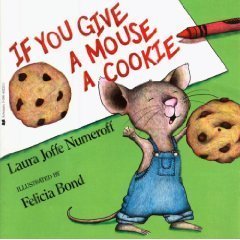 I
If You Give a Mouse a Cookie
Written by Laura Joffe Numeroff
Illustrated by Felicia Bond
If You Give a Mouse a Cookie
is a classic from 1985 that I read to my daughters and I've just read again. The illustrations are marvelous. (If you know me, you know how I love mice stories.) The story is great for learning readers, because it follows a "chain of logic" that will have them anticipating what comes next. After several readings, they enjoy the irony in knowing the story, and its circular nature. There's nothing like wanting to warn a character, "If you do that…."
Highly recommended for Family Read-Aloud Time.
oOo


Sophie Learns to Be A Finisher
Written by Jane E. Mason
Illustrated by Anne E. Iverson
I'm pleased to add a colorful rhyming book to my list of Read-Aloud recommendations.
Sophie learns how to turn a long, difficult chore into a fun project, with the help of some talented ants. This book is available in an interactive version for iPad, and as a paper book at Take Flight Books.
I particularly enjoy the garden scenes — bright, engaging illustrations with fun details.
Another appealing feature of this book is an appendix with suggested ways to enjoy this book as a family. And believe it or not, I found the song the ants sing! So enjoy this book and its lesson about work. You'll be inspired to finish some projects!
oOo


Heart of a Hero
by Billi Tiner
The book's description: Lady, an Irish Setter puppy, is leading a simple life on a farm in Ohio during the 1940's. Lady's biggest desire is to become an expert hunting dog like her mother. She has no idea that her life is going to take her down a path where she will find herself in the middle of incredibly dangerous situations, including a world war. On several occasions, Lady will have to find the courage to risk her life in order to save someone she loves. The loyalty and bravery that Lady shows throughout her lifetime illustrate what it truly means to have the heart of a hero.
My review: This book, based on a true story, is my recommended children's book for Veteran's Day. But it is a great read for any time of the year. I loved its unique look at training and combat, and how it emphasizes the love and loyalty that inspire military service.
A wonderful book to read aloud as a family!
oOo


The Rescue Team
by Billi Tiner
The book's description: Ellie is shocked and confused when her owners leave her at the animal shelter. Feeling abandoned and unloved, Ellie spends her days staring vacantly through the gate of her pen. Ellie's life changes when she is finally adaopted by a compassionate woman named Anne. Ellie and Anne form an unbreakable bond of love and friendship. A thunderstorm drives Toby, a young frightened kitten, to Anne's porch. Anne and Ellie immediately welcome him into their family.
One night, they hear an emergency broadcast announcement that a little girls is missing in the woods near their home. Anne, Ellie and Toby join in the search to find her, and an incredible rescue team is formed. the team will be called upon again when a tornado tears through their town. Will they find any survivors?
My review: Exciting, emotional and family friendly. Once again, Billi Tiner writes about the amazing bond between humans and animals. Good people doing the right thing, even when it's hard, and animals understanding and doing what people can't do without them.
The story is a series of exciting rescues that honors the strengths of each character and the love and trust that makes them a team, and a family.
It is rare to find a book everyone in a large family will be able to understand and enjoy. This book passes that test, keeping the story exciting and emotional.
Here's what I see as the book's great strength: it is for learning readers, but doesn't sacrifice story for reading level. The littlest youngster who hear this read aloud will follow the story and be able to understand and be emotionally involved. The grade school student who reads this on his own will find it a page turner, and have a positive reading experience.
Anyone, young or old, who loves or longs to own a pet will love this book. Anyone who cherishes or longs for meaningful relationships will love this book.
This makes a great choice for family read-aloud time: an exciting adventure that shows the love and trust that makes a team and a family.
oOo


Tales of Big and Little: Doom of the Three Stones
by Josh Kilen
The book's description: For ages 6 to Adult. No illustrations or frills, just pure, awesome story! Your kids will love you for it.
Big and Little are two dogs who love cheese. They would never have imagined that this love would take them to another world, to do battle with the ferocious feline, Shirlee, and his army of animated Pizza Crusts. Follow Big and Little as they try to foil Shirlee's plans to take over the worlds!
My review: I discovered this book when I searched for "bedtime stories", and it deserves its place near the top of the pack.
This is such a "guy" book! And little guys will love it. That's not to say little gals won't. But this book will keep a kid on the edge of his seat, imagining all the monsters and battles and life-on-the-line adventures.
Think Narnia and Star Wars meet Lord of the Rings on a Diskworld version of the Yellow Brick Road, with all the best lines given to dogs. Pure-hearted, loyal, cheese-loving dogs.
Just a good story, with loveable, unlikely heros, great monsters, 21 episodes all ending in cliffhangers!
Highly recommended for reading aloud.
oOo


The Lost Princess: in Winter's Grip
by Josh Kilen.
The book's description: For Ages 6 to Adult. Annabeth lives a normal life as a happy girl in a small town. Then one day her life is turned upside down by a Royal pronouncement that she is in fact a Princess! With evil nipping at her heels, Annabeth and Prince Ryan must battle Stone Monsters, Bandits, and the dreaded Ice Witches in order to reclaim her title and dispense True Justice throughout the land.
My review: Ooooh. This is a bedtime story for a series of winter nights, so snuggle up with a cup of warm milk (make mine chocolate) and share this fantastic story with the kids.
It has the ring of a Fairy Tale, but as the Godmother assures us, without the fairies "zipping about and causing mischief." Instead you'll find magic, prophecy, truly evil witches, bandits, monsters and a particularly nasty dungeon . And, of course, the virtuous princess and a brave and handsome prince.
If you like that kind of story, (admit it, you do) you will love this adventure where each episode ends with yet more at stake, and leads to a heart-wrenching final showdown.
This is the kind of book you can read in the same amount of time it would take to watch a movie. In fact, it reads a lot like a good, old-fashioned film script: lots of action that you can "see" happening. But the fun of reading this aloud with your family makes it worth a lot more than a movie.
Even more good news: The sequel is available now!
oOo
Susan Call Hutchison is a participant in the Amazon Services LLC Associates Program, an affiliate advertising program designed to provide a means for sites to earn advertising fees by advertising and linking to Amazon.com.



by

by